ARCHBISHOP OPENS TECHNOLOGY DEVELOPMENT CENTER IN MANGALURU
praveenmanuel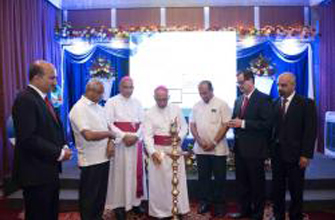 ATC Group, consisting of Asian Trading Corporation, ATC Publishers and Brilliant Printers, with over 70 years in the business of publishing and printing, opened its technology development centre 'ATC Online LLP' at Goldfinch Complex here.
Addressing a gathering after inaugurating the centre, Archbishop Rev Dr Bernard Moras complimented the directors for their dedication, perseverance, hard work and excellence in their respective fields of expertise. While enumerating the number of institutions that could benefit from this initiative, he hoped that the new venture would result in a lot of good for the society.
Mangalore diocesan Bishop Rev Dr Aloysius Paul D'Souza lauded the directors for considering Mangaluru to set up the new organisation which would result in employment opportunities for talent in Mangaluru as well as help institutions with the excellent software package that would be made available by the organisation.
Earlier, addressing reporters, Director Nigel Fernandes said that ATC Online has entered the area of automating schools after a year of market research.
Stressing the need for access to technology among students at an early age, he said that though e-education is available among affluent schools, it is still a dream for most other schools that cater to the economically weaker sections, as they cannot afford to pay for the technology. "ATC Online has taken the initiative to fill this gap and make technology available and affordable to all children," he said and added that ever since it launched the initiative in September 2017, it has already signed over 40 schools and plans to cross 200 schools by the end of the next financial year.
On the need for setting up the centre in Mangaluru, co-promoter and director Ivan Fernandes said that Mangaluru has the best talent for IT development and the Centre's strategy is to promote local talent. "We expect to grow with around 100 employees by the end of this year," he said and added that the centre in Mangaluru is supplemented by its existing marketing and customer support offices in Bengaluru and Dubai.
MLA J R Lobo and Brilliant Printers director Peter Anil Rego were present.