AN EXTRAORDINARY FRIEND OF GOD AND ONE OF OUR GREATEST ADVOCATES – SAINT ANTHONY OF PADUA
Melinda A. Sequeira
By Melinda A. Sequeira | 11 June 2021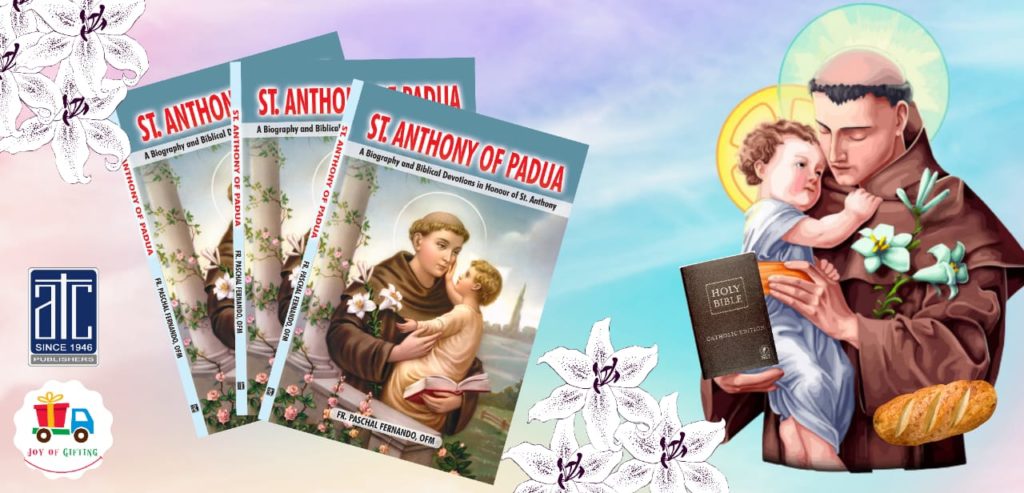 This blog has been curated with the hope of providing a handy source of prayer and devotion for the many who love St. Anthony, and also with a view of introducing "the Saint of the whole world" to the few who may not know him.
Devotion to the Saints has always been a great and powerful characteristic of our Catholic heritage. We honor them because they are heroes and heroines of the Faith and special friends of our God. Another reason we honor them is because we know that in them we have powerful advocates who are always ready to plead and intercede to God on our behalf.
Saint Anthony of Padua is also known as Saint Anthony of Lisbon or as the people of Portugal lovingly call him Santo António de Lisboa.
St. Anthony of Padua is one of the most important saints in the Catholic faith. He was born on the 15th of August 1195. He came from a very wealthy background. He was given the name Fernando at birth. Fernando did his schooling in a Catholic Institution in Lisbon. At the age of 15, he started his journey in the Augustinian Monastery of Sao Vincente in Lisbon. He did this against the wishes of his family.
Two years later, Fernando requested the monastery to have him transferred to a different location. He was sent to Holy Cross in Coimbra, which is known to be a great Institute of learning. The next 8 years of his life was devoted to deep study and prayer. He completely immersed himself in Sacred Scripture.
When Fernando heard of the terrible news of the Franciscans being martyred for proclaiming Christianity in Morocco, he was drawn towards them and joined the Franciscan Order in 1221 when he was 26 years old. After his ordination to priesthood, Fernando adopted the name Anthony, which in Biblical terms means "worthy of praise".
At his own request, he was sent as a missionary to Morocco with the aim of preaching God's Word among the Moors. Later, he was forced to return to Europe because of certain health related issues. After this, Anthony was transferred to Romagna in Italy where he spent nine months as a chaplain to hermits. He was known for his modesty, as he spent his days and time carrying on the lowliest duties of the kitchen. Little did he know that God had bigger plans for him. One day, at a simple ceremony, the priest who was meant to give the sermon fell sick, and Anthony was called to preach in his place. Even though he humbly refused at first, he eventually had to do so due to his vow of obedience to his superiors.
God had great works in store for him and gave him, through his superiors, an outlet for his missionary zeal in Italy and France. The rest as they say, is history!
Everywhere he went he set a flame of fervour in the hearts of thousands and thousands of people who flocked to hear him speak. Very early on, his preaching along with the miracles that he worked constantly, made the name of Anthony a household word.
Anthony was sent to Padua in 1228, the city which claimed him as its own and guarded his name and fame with pride and immense affection. This is the place where St. Anthony spent the last years of his all-too-short life.  The last two years of his life he spent in Padua, preaching, hearing confessions and working to help the poor. St. Antony died on June 13th, 1231 at Arcella, a suburb of Padua in the apartment reserved for the chaplain of the sisterhood of Poor Clares of Arcella. He was only 36 years old when he breathed his last.
Saint Anthony was canonized in 1232 by Pope Gregory IX and declared a Doctor of the Church by Pope Pius XII in 1946. Pope Pius XII, raised St Anthony to the dignity of Doctor of the Church under the title of "the Evangelical Doctor". He holds the record for the second fastest canonization in history (St. Peter being the first fastest canonized saint in papal history): St. Anthony was declared a saint 352 days after his death. In 1263, a basilica was built in his honour.
Above all, he was known as the greatest preacher of the Middle Ages and one of the finest orators of all time. Today he is one of the most famous saints and is often called upon by Catholics to help find lost possessions.
Saint Anthony of Padua is usually sculpted or portrayed wearing a brown or black Fransican order Habit, while holding the child Jesus, or a lily, book, bread, or all four in his arms. The lily symbolises purity and his lifelong struggle against the devil. St. Anthony holding the child Jesus represents his unique mystical experience of when Jesus appeared to him in the form of a loving child. This also depicts his immense love for God. One of the oldest images of the Saint is him holding a book in his hand, which symbolizes his knowledge, his teaching and preaching. The bread symbolises St. Anthony's work of charity to the poor. And sometimes, the Saint is also represented with a burning flame in his hand, which emphasizes his love for God and humanity. A bank of vigil lights burns in front of his statue.
Till today, we have witnessed a remarkable devotion to this glorious Saint. He was so outstanding that Pope Leo XIII called him "The Saint of the whole world". He earned this honor only because of the astonishing way in which God has honoured him and the strong appeal that his beautiful heroic life made to all who know him or even read about him. He also won this devotion because of the all-embracing power he had shown to help so many of us in our many needs, both spiritual and temporal.
No plea is too trivial, none too great, when we make it to Saint Anthony of Padua. It may be that we come only to ask him to find some trifle we have lost, or perhaps we come in great need – whatever our request we can rely on him to help us.
Perhaps, in these days of great need, when the wants of our troubled hearts are many, Divine Providence would remind us again of the beloved friend we have in St. Anthony, who grants requests which we make through his intercession!
St. Anthony of Padua, a book by Fr. Paschal Fernando is a biography and Biblical devotions in honor of St. Anthony. It provides guidelines, devotions and prayers for growth in the spirit of St. Anthony.
This book also offers a detailed biography of this extraordinary Saint, who was often forced to preach outdoors since no church could board the enormous crowds who came to hear him speak. This book is written in a very simple language which is certain to be welcomed and understood by all. Taking all of these aspects into consideration, it's safe to say that this book is a very contemporary contribution to the copious amount of literature on St. Anthony of Padua.
We at Joy of Gifting strongly recommend you get your hands on a copy of this beautiful book. We guarantee you that the benefits gained from this read are immense. You can find this book by clicking on the link below.